Joshua Rye doesn't have time for a romantic partnership. He's too busy stomping out careers at the office, and acting as though he really cares at the local hospice. But why would someone with nothing but disdain for the infirmities of the human  condition volunteer there? Perhaps it has something to do with his ambition to become the investment firm's youngest ever partner.
Even someone with such a conniving heart, however, must confront the realities of the circumstances he finds himself in. For the agnostic Joshua Rye, this means facing the hospice's deeply-devout chaplain, Bugle Dawn; Teddy Little Bear, a terrier with a sixth sense; and, as one patient says, "Signs along the way."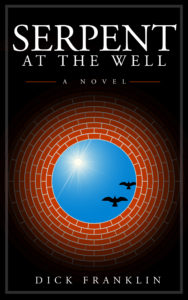 How can the mask colors and nicknames of seven men murdered fifty years ago, solve a mystery today? But that's exactly what is at stake when the little town of Blue Junction tries to defend its ancient lake from the Los Angeles aqueduct.  An Indian prophesy has long persisted that the Great Spirit will one day send his powerful protector, Ta-ke-ne-ha, to defend the natural wonder before it is lost forever. But this time around, the battle will not be fought with dynamite; it will be fought with wits before the court. 
The huge city's famous and politically ambitious lead attorney, Charles Vegoran, may appear unbeatable, but then he has never faced Ted Gables, the young law partner from New York, who has finally come back to his lakeside town. 
Old and new romances converge, old hatreds reignite, and deadly assassins are loose in this perilous, high-mountain battle of courage and blood. If the lake is to survive, could the old Indian myth somehow explain the strange happenings upon Gables' return?  
    1693 Europe: A time of enlightenment, but also disease, deadly edicts, and impending war. MOLTO GRANDE follows the epic challenges of Nicolo and Luca, two Italian brothers, as they confront a perilous world after plague destroys their family. Nicolo will be given a chance at celebrity as a castrato; if successful, he will be favored by royalty across the continent. Luca's path will take him to the ways of the nomadic Gypsy, a long-despised and often persecuted people.
Each brother will gain a strong woman who will help hold rein over his personal drama: For Luca, it is Donka, the chieftain's spirited daughter; for Nicolo, it is Princess Andora, the captivating daughter of the Spanish king. When Nicolo and Luca's lives converge after many years of separation, can even these pivotal women prevent a mistaken identity from causing brother to go against brother in surprising and deadly ways?    
The Duke of Savoy, the kings of France and Spain, and the intellectuals of the day, will all make their marks on the lives of these siblings.    
Thank you for visiting my portfolio!
Note: Joshua Rye, Serpent at the Well, and MOLTO GRANDE are available at: amazon.com/author/dickfranklin