Joshua Rye doesn't have time for a romantic partnership…or for God. He's too busy stomping out careers at the office, and acting as though he really cares at the local hospice. But why would someone with nothing but disdain for the infirmities of the human  condition volunteer there? Perhaps it has something to do with his ambition to become the investment firm's youngest ever partner.
Even someone with such a conniving heart, however, must confront the realities of the circumstances he finds himself in. For the agnostic Joshua Rye, this means facing the hospice's deeply-devout chaplain, Bugle Dawn; Teddy Little Bear, a terrier with a sixth sense; and, as one patient says, "Signs along the way." See preview chapters here: https://read.amazon.com/kp/card?asin=B081TMNMQ7&preview=inline&linkCode=kpe&ref_=cm_sw_r_kb_dp_47DFPMSJ5TEHAH3M2WEK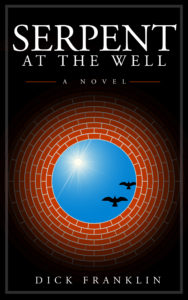 This fictionalized story about the defense of "Lake Clarity" is based on many aspects of the real-life, fifty-year water war over Mono Lake in California's eastern Sierra. 
 
The resistance was murdered fifty years ago. How could the color of their masks solve the mystery of their deaths now? 
The Paiutes lived by the ancient high-Sierra lake for a thousand years. But in less than fifty, the Los Angeles aqueduct has brought this huge inland sea and the life it supports to the brink of extinction. In a last desperate effort to stop the devastation, the little town at its shore seeks to battle the seemingly unbeatable city in the court of law. Having few resources for such an undertaking, however, how might the town's estranged son, Ted Gables, a now successful New York law partner, be induced to participate in what will soon become a deadly struggle, both inside and outside the courtroom? 
Threatened by the possible loss of a key water supply, LA's dominant land developer unknowingly unleashes deadly assassins; the Sierra Nevada's high-mountain dangers also make their claim on life. Through it all, there is an impending collision between Gables' boyhood romance with Skye Gallagher, and his current New York romance with Romie Lane, the daughter of a media mogul. For Ted Gables, though, he will need to confront the meaning of the lake's shocking Indian prophesy above all else.
See preview chapter here: https://read.amazon.com/kp/card?asin=B081TP9G5W&preview=inline&linkCode=kpe&ref_=cm_sw_r_kb_dp_PCPQ2M9GYD4W1TRKGRKX  
The epic Molto Grande, the size of three full-length novels.
1693 Europe: A time of enlightenment, but also disease, deadly edicts, and impending war. Molto Grande spans three countries, tracking the danger-fraught journeys of two young Italian brothers in servitude, who are separated after plague destroys their family.
Nicolo, determined by the church to have vocal potential, must undergo a perilous castration to join the music conservatoire. But even there, a powerful force is dedicated to his failure, and to ensuring that he will not achieve success as one of Europe's celebrity castrati. Luca, after being discovered near death by a nomadic Roma (Gypsy) band, is brought into the tribal life of a long-despised and often persecuted people. He will soon know the fear of an ethnicity that must literally run for its life.
Despite their contrasting paths, each will draw needed strength from a special woman, unique in her own domain. For Nicolo, it is Princess Andora, daughter to the Spanish king, and for Luca, it is Donka, daughter to the Gypsy chieftain.
The arcs of the brothers' lives, notwithstanding the cultural chasm between them, will inexorably bring them back together, but in the most surprising and deadly ways. The Duke of Savoy, the kings of France and Spain, and the intellectuals of the day will all make their marks on the lives of these siblings.
See preview chapters here:  asin=B083932D1Y&preview=inline&linkCode=kpe&ref_=cm_sw_r_kb_dp_1MW0HM813X4AGCVCD4PC 
1958: Bakersfield, California
Having recently lost her father, twelve-year-old Lucy DeWilde has withdrawn to a new life with her mother at a trailer park. Naturally shy, she dreads the thought of going to a new school, and it isn't long before her fears of being an outsider are realized. But then, Maggie Mae, also a new girl at Jefferson Elementary, comes into her life with a friendship that changes everything.
It's off limits for the girls to play the boys' marbles game, but that doesn't stop Lucy from wanting to compete. She teaches herself how to play, but she needs help to gain the skill to challenge Johnny Henry, the school's top player. When she teams up with Mr. Nico, the "old grouch" at the trailer park, it is to teach her how to become competitive in the ancient marbles game of ringer. How far might her growing confidence take her—beyond Johnny Henry to the mid-state championships, the state finals, even the nationals?
In a year of trial for Lucy, a girl who lacks self-confidence, and of awakening for Mr. Nico, a man who has lost everything, an unlikely and endearing friendship might just be the greatest prize of all. See preview chapters here: https://read.amazon.com/kp/card?asin=B092XBYJZQ&preview=inline&linkCode=kpe&ref_=cm_sw_r_kb_dp_NPQ1K44W8HZ4H5W6EAJP   
Thank you for visiting my portfolio!
Note: Joshua Rye, Serpent at the Well, and MOLTO GRANDE are available at: amazon.com/author/dickfranklin